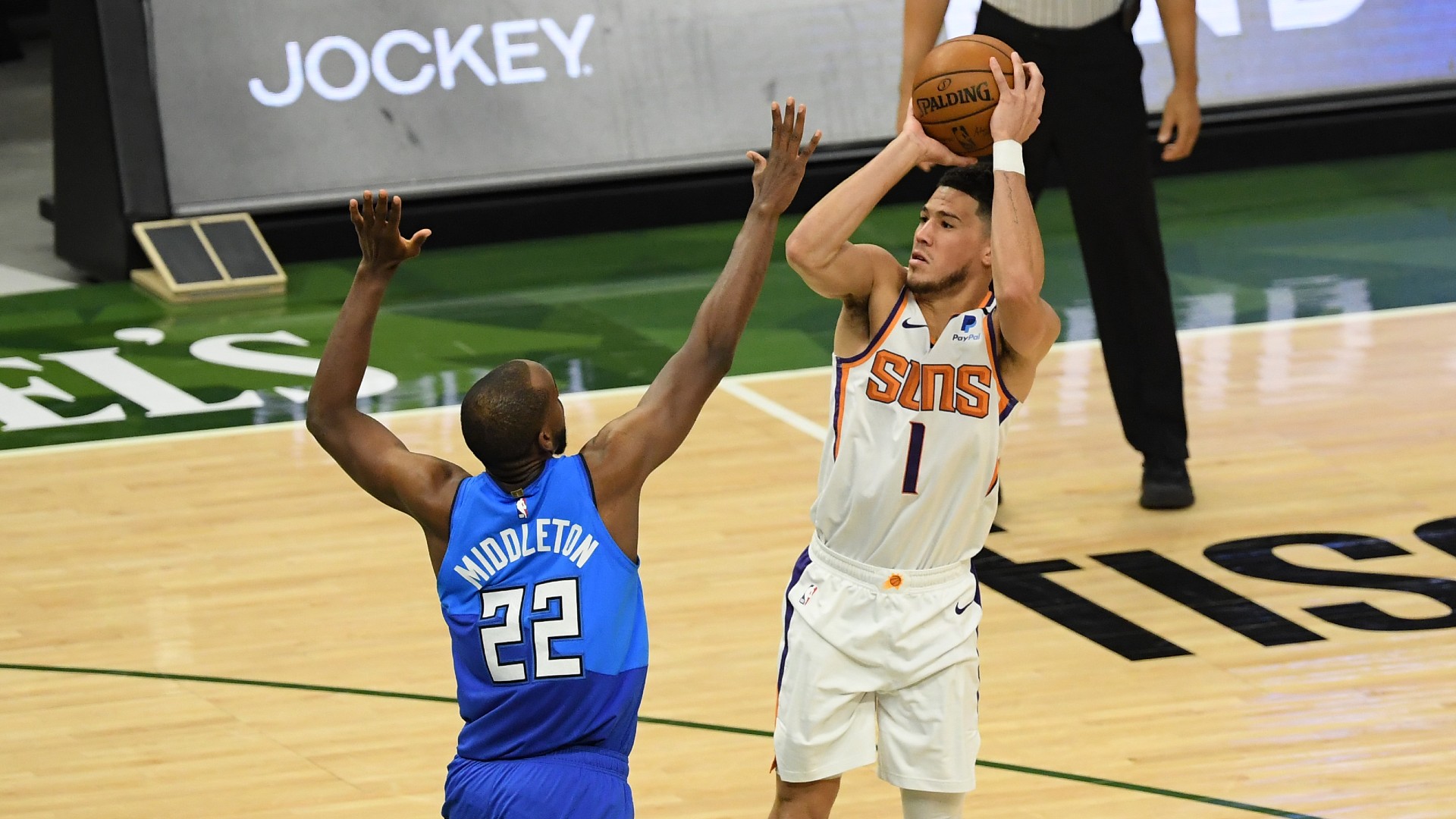 Chris Paul went into full "Point God" mode in the first NBA Finals game of his career, leading the Suns to a 118-105 win and 1-0 series lead over the Bucks.
The 11-time All-Star scored 32 points and dished out nine assists in Tuesday night's Game 1, becoming the first player since Michael Jordan to post at least 30 points and eight assists in a Finals debut. Paul had plenty of help, as five other Phoenix players hit double-figures in the scoring department, including Devin Booker (27 points, six assists, three steals) and Deandre Ayton (22 points, 19 rebounds).
Two-time NBA MVP Giannis Antetokounmpo, who rejoined Milwaukee's starting lineup for the first time since suffering a knee injury in Game 4 of the Eastern Conference finals, totaled 20 points, 17 rebounds and four assists in the loss. Khris Middleton led all Bucks players with 29 points.
Sporting News provided live updates and highlights from Game 1 the 2021 NBA Finals. Check out all the highlights you missed right here.
MORE: Watch the NBA Finals live with fuboTV (7-day trial)
Suns vs. Bucks score
| | | | | | |
| --- | --- | --- | --- | --- | --- |
| Game 1 | Q1 | Q2 | Q3 | Q4 | Final |
| Suns | 30 | 27 | 35 | 26 | 118 |
| Bucks | 26 | 23 | 27 | 29 | 105 |
Suns vs. Bucks live updates, highlights from Game 1
(All times Eastern)
Final: Suns 118, Bucks 105
11:20 p.m. — Chris Paul hits the brakes hard, and Giannis Antetokounmpo has no chance. Not looking great for the Bucks here.
11:10 p.m. — And a strong response from the Suns. The Bucks still have time, but they can't keep trading runs.
11:05 p.m. — Signs of life from the Bucks. A Bryn Forbes 3-pointer cuts the deficit down to nine with just under eight minutes remaining.
End of third quarter: Suns 92, Bucks 75
10:50 p.m. — CP3 is just cooking right now. The Suns are firmly in control.
10:40 p.m. — The Bucks are in the danger zone. The Suns have extended their lead to 16 points midway through the third quarter.
10:30 p.m. — Chris Paul drills the 3-pointer, and Brook Lopez gets hit with a flagrant foul for not giving the shooter enough space to land. The Suns are starting to create some separation.
Halftime: Suns 57, Bucks 49
10:10 p.m. — Wow. That is a LeBron-esque chasedown block by Giannis Antetokounmpo.
9:55 p.m. — Chris Paul and Devin Booker: Masters of the midrange.
9:50 p.m. — Suns forward Dario Saric is out for the rest of Game 1. He appeared to suffer a knee injury on a drive to the basket in the first quarter.
End of first quarter: Suns 30, Bucks 26
9:40 p.m. — So apparently Giannis Antetokounmpo's knee is made of Adamantium.
9:30 p.m. — What a spectacular finish by Devin Booker.
9:15 p.m. — Giannis Antetokounmpo is moving well early. He's got four points and three rebounds in four minutes.
8:45 p.m. — The starters for each team …
Bucks: Jrue Holiday, Khris Middleton, P.J. Tucker, Giannis Antetokounmpo, Brook Lopez
Suns: Chris Paul, Devin Booker, Mikal Bridges, Jae Crowder, Deandre Ayton
8:30 p.m. — And there it is. The two-time NBA MVP is back in the starting lineup.
Milwaukee Bucks star Giannis Antetokounmpo (knee) will play tonight in Game 1 of The Finals against the Phoenix Suns, league sources tell @YahooSports.

— Chris Haynes (@ChrisBHaynes) July 7, 2021
8:15 p.m. — With tipoff fast approaching, the Bucks still haven't announced whether Giannis Antetokounmpo will play in Game 1.
Suns vs. Bucks start time today
Date: Tuesday, July 6
Time: 9 p.m. ET
Game 1 of the NBA Finals will start at 9 p.m. ET on Tuesday, July 6. Phoenix will host Games 1 and 2 of the NBA Finals before the series moves to Milwaukee for Games 3 and 4.
How to watch the NBA Finals
TV channel: ABC
Live stream: ESPN app, fuboTV
Game 1 of the NBA Finals between the Bucks and Suns tips off Tuesday on ABC. Cord-cutters have several streaming options to watch the game, including the ESPN streaming app and fuboTV, which offers a seven-day free trial.
Fans in Canada can watch Game 1 on TSN 1/4.
NBA Finals schedule 2021
(All times Eastern)
July 8
| | | |
| --- | --- | --- |
| Game | Time | National TV |
| Bucks vs. Suns | 9 p.m. | ABC |
July 11
| | | |
| --- | --- | --- |
| Game | Time | National TV |
| Suns vs. Bucks | 8 p.m. | ABC |
July 14
| | | |
| --- | --- | --- |
| Game | Time | National TV |
| Suns vs. Bucks | 9 p.m. | ABC |
July 17
| | | |
| --- | --- | --- |
| Game | Time | National TV |
| Bucks vs. Suns* | 9 p.m. | ABC |
July 20
| | | |
| --- | --- | --- |
| Game | Time | National TV |
| Suns vs. Bucks* | 9 p.m. | ABC |
July 22
| | | |
| --- | --- | --- |
| Game | Time | National TV |
| Bucks vs. Suns* | 9 p.m. | ABC |
* If necessary