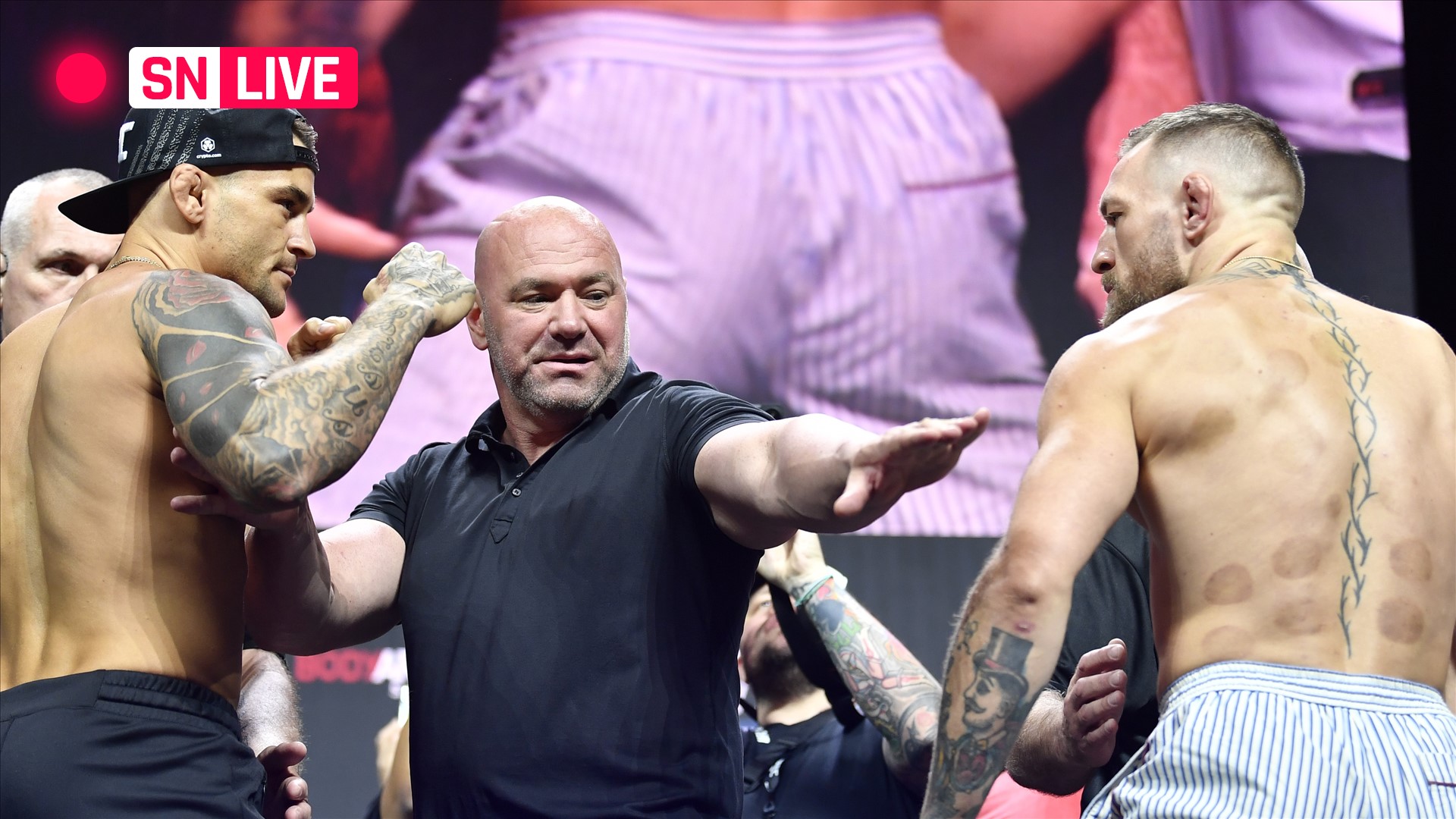 LAS VEGAS — It's time to finally settle the score. 
After splitting two fights over the course of seven years, Dustin Poirier and Conor McGregor will put an end to their rivalry in the main event of UFC 264 on Saturday.
MORE: Sign up to watch the UFC 264 PPV, exclusively on ESPN+
McGregor won the first fight by knockout at UFC 178 in 2014, when the two were featherweights. The result would serve as a precursor to his ascent to superstardom. The fighters would continue their respective careers on totally different paths. McGregor became the first UFC fighter to hold world titles in two different weight classes while becoming the biggest star in combat sports. Poirier's route was much longer; the Louisiana product moved to lightweight and defeated the likes of Justin Gaethje and Eddie Alvarez. He also captured the interim 155-pound championship. 
Poirier and McGregor both lost to Khabib Nurmagomedov and then crossed paths again at UFC 257 in January. This time, Poirier secured the win with a second-round knockout.
Rather than go after the lightweight title, Poirier decided that there needed to be a trilogy with McGregor and the UFC booked it for T-Mobile Arena. The card will mark the sport's first full-capacity show in Las Vegas since March 2020, before COVID-19 shut down live events. 
The rubber match is set to be the biggest event of the year for the UFC. Who will get the job done?
Conor McGregor vs. Dustin Poirier 3 live updates, highlights from UFC 264
Gilbert Burns neutralizes Wonderboy's striking to earn decision victory
12:00 a.m.: After three rounds we're going to the scorecards. Burns executed an excellent game plan of neutralizing Wonderboy's striking with a mix of grappling, takedowns and defense. He'll likely earn the decision and await a big fight that gets him one step closer to another title opportunity. 
11:53 p.m.: Burns has done a great job of staying out of trouble in the standup while securing a pair of takedowns. Wonderboy likely needs a finish. 
11:48 p.m.: One round down and not a whole lot happened. Burns spent much of the round clinching and eventually secured a takedown. But near the end of the round Burns walked right into a punch that sent him down. Clearly, he doesn't want to stand with Wonderboy. What adjustments will be made in round two?
11:40 p.m.: Donald Trump has entered the T-Mobile Arena to a mixed reaction from the crowd. Some cheered and chanted "USA" while others booed him. He's seated cageside as Dana White's guest.
11:30 p.m.: Co-main event is up next. Stephen "Wonderboy" Thompson will face Gilbert Burns as both jockey for another title opportunity. Wonderboy hasn't had a taste since losing to Tyron Woodley several years ago while Burns is coming off of a knockout loss to current champion Kamaru Usman. Both need this victory to stay in the title hunt. 
Tai Tuivasa crushes Greg Hardy with 1st round finish
11:18 p.m.: They promised violence and delivered in spades. But it was Tuivasa that emerged victorious by sinking Hardy's battleship with a left hand that sent the former NFL player to the canvas. Prior to that, Hardy snuck in a hard right hand that seemed to hurt Tuivasa. As Hardy charged forward, Tuivasa uncorked a left hand that blew Hardy up. Of course, Tuivasa did a shoey afterward.   
11:07 p.m.: The big boys are up next as former NFL Pro Bowl defensive end Greg Hardy steps back into the Octagon for a throwdown with Tai Tuivasa. Both have promised to stand a bang so someone must fall. 
Irene Aldana brutalizes Yana Kunitskaya for 1st round TKO
11:03 p.m.: Aldana put together a terrific performance and secured a first-round finish. It all started with a bomb of a left hook that put Kunitskaya down. From there, Aldana was in full pursuit of the finish and clobbered Kunitskaya until she earned the stoppage. Fantastic performance and puts her right back in the title hunt. 
10:48 p.m.: Up next is Irene Aldana vs. Yana Kunitskaya in women's bantamweight fight. Aldana came in 3.5 pounds overweight and will have to forfeit 30% of her fight purse. 
Sean O'Malley dissects Kris Moutinho with 3rd round TKO
10:40 p.m.: And there's the finish. O'Malley was landing with alarming frequency until referee Herb Dean had seen enough and stopped the fight. The crowd here didn't like the finish as Moutinho continued to fight back despite eating an insane amount of punches. Nevertheless, O'Malley adds another win to his record and could certainly be in line for some big fights in the near future.  
10:34 p.m.: Well, O'Malley didn't get the second-round finish that he predicted but he's been stellar with a surgical performance. We're heading into the third. 
10:27 p.m.: Talk about a beautiful display of striking! O'Malley hit Moutinho with everything but the kitchen sink in the first round and demonstrated why he's almost certain to be a superstar in the sport. Entering the second round and this is where he predicted a finish that will go viral. Will he get it?
10:13 p.m.: And we're live! Sean O'Malley is perhaps the next big thing in MMA and will be in a prime spot as he opens the pay-per-view against the debuting Kris Moutinho. 
9:58 p.m.: Well, Carlos Condit looked every bit of 38 tonight as Griffin was stronger, fresher and faster throughout the fight. Griffin cruised to a unanimous decision while Condit may have to consider his future as a mixed martial artist. 
9:38 p.m.: The final prelim before the main card is up now as 38-year-old Carlos Condit looks to bring his winning streak to three against Max Griffin. 
9:25 p.m.: What was expected to be a great fight lived up to the hype as Price and Pereira gave us an entertaining 15 minutes of action. Price never quit and Pereira's creativity was on full display. But it would be Pereira who would take the unanimous decision with scores of 29-28 across the board. 
9:12 p.m.: You don't see this every day. Pereira just did a backflip and landed in full mount. He nearly finished the fight with an Americana but Price escaped and closed the round landing some hard punches when the fight got back to the feet. 
9:05 p.m.: Up next we have what should be a banger of a fight between Niko Price and Michel Pereira.
8:45 p.m.: And Ryan Hall is done. Hall spammed the Imanari Roll throughout the fight. Eventually, Topuria found an opening, cracked Hall while on the ground and slammed punches into his head until Hall was unconscious. Nobody wanted to fight Hall. Topuria did. And now look. 
8:40 p.m.: Up next is the return of Ryan Hall. It's been nearly 2 years to the day that Hall last fought but he's back and facing Ilia Topuria. Recognized as one of the most dangerous grapplers in the UFC, can Hall put fear in the featherweight division with his performance tonight?
8:24 p.m.: And we have a finish as du Plessis finishes off Giles with a brutal right hand coming off the cage. Giles hit the canvas hard as du Plessis followed him with a couple of punches that finished the job. Last year, du Plessis was in Vegas as a fan watching McGregor-Poirier. Now he's fighting on a McGregor card and gets a 2nd round KO. Impressive. 
8:11 p.m.: We're live from Las Vegas with the prelims. The atmosphere for Las Vegas' first UFC card back at T-Mobile Arena in over a year is insane and will surely ramp up before the end of the night. A solid UFC Fight Pass card has just wrapped and we're kicking off with Trevin Giles taking on Dricus du Plessis in a middleweight bout.
McGregor vs. Poirier 3 start time
Early prelims: 6 p.m. ET | 3 p.m. PT
Prelims: 8 p.m. ET | 5 p.m. PT
PPV main card: 10 p.m. ET | 7 p.m. PT
McGregor vs. Poirier 3: 12:15 a.m. ET (approx.) | 9:15 p.m. PT (approx.)
UFC 264: Dustin Poirier vs. Conor McGregor 3 takes place on July 10. Early prelims kick off the event at 6:15 p.m. ET; the pay-per-view main card begins at 10 p.m. ET. Poirier and McGregor should enter the Octagon around 12:15 a.m. ET, depending on the length of the undercard bouts.
How to watch McGregor vs. Poirier 3 on PPV
Early prelims: ESPN/ESPN+
Prelims: ESPN/ESPN+
Main card: ESPN+ (pay-per-view)
The main card for UFC 264 is available in the U.S. on the ESPN+ subscription streaming service for a pay-per-view cost. That portion of the event begins at 10 p.m. ET.
Earlier fights are viewable live on ESPN, the WatchESPN app and, for the early prelims, UFC Fight Pass.
In Canada, the main card pay-per-view is available on Bell, Rogers, Shaw, SaskTel, Videotron, Telus, Eastlink, and UFC PPV on UFC Fight Pass.
Click here to learn about the different pricing and bundling options with the ESPN+ platform.
UFC 264 fight card
Main card
Dustin Poirier vs. Conor McGregor; lightweights
Gilbert Burns def. Stephen Thompson via unanimous decision (29-28, 29-28 & 29-28)
Tai Tuivasa def. Greg Hardy via 1st round TKO (punches) (1:07) 
Irene Aldana def. Yana Kunitskaya via 1st round TKO (punches) (4:35)
Sean O'Malley def. Kris Moutinho via 3rd round TKO (punches) (4:33)
Preliminary card 
Max Griffin def. Carlos Condit via unanimous decision (30-27, 29-28 & 29-28) 
Michael Pereira def. Niko Price via unanimous decision (29-28, 29-28 & 29-28)
Ilia Topuria def. Ryan Hall via 1st round KO (punches) 4:47
Dricus du Plessis def. Trevin Giles via 2nd round KO (punches) (1:41)
Fight Pass prelims
Jennifer Maia def. Jessica Eye via unanimous decision (30-27, 29-28 & 29-28)
Brad Tavares def. Omari Akhmedov via split decision (29-28, 29-28 & 28-29)
Zhalgas Zhumagulov def. Jerome Rivera via 1st-round submission (guillotine) (2:02).