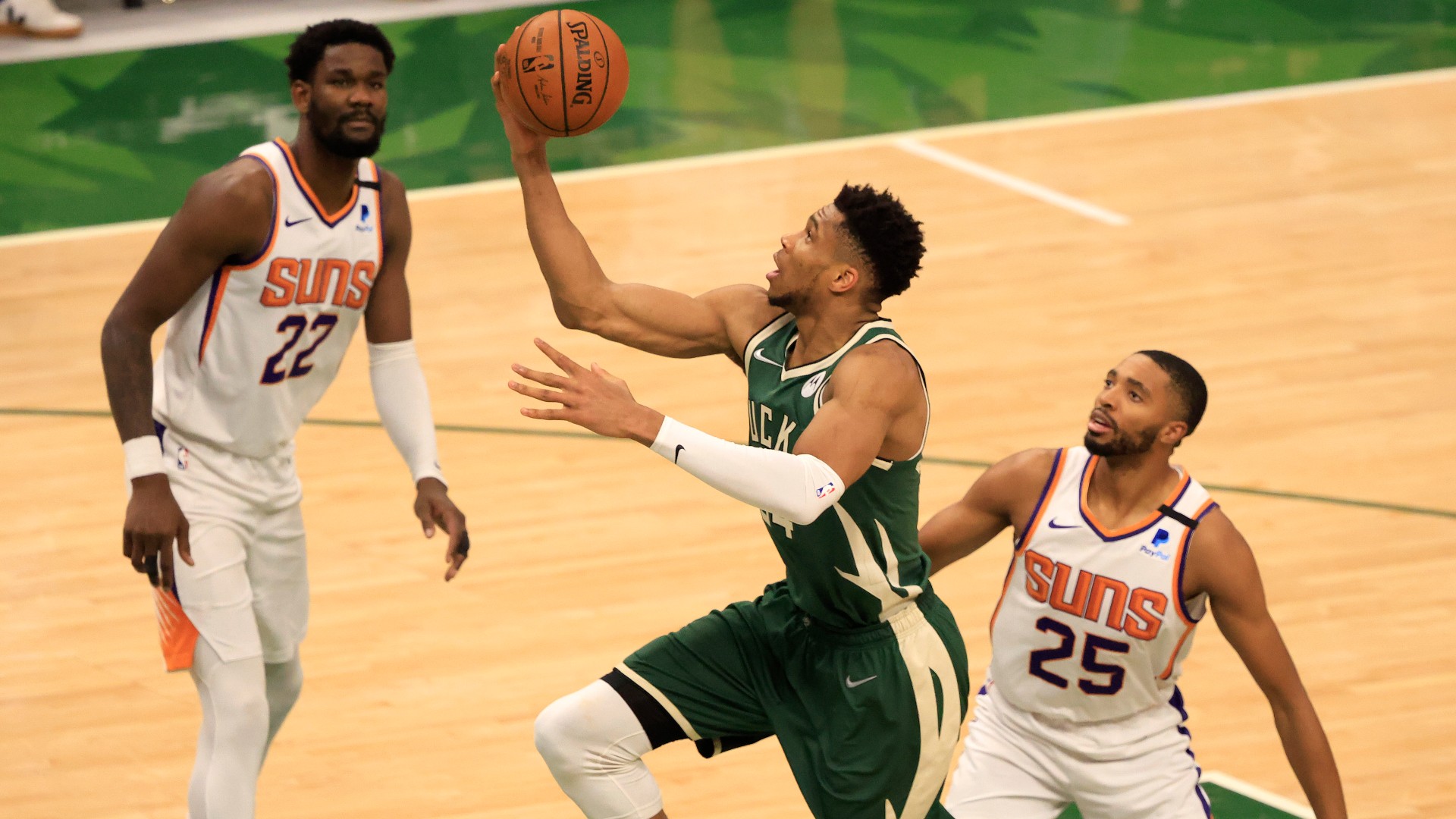 At the end of the first quarter of Game 5, the Bucks were staring at a 16-point deficit. Then, Milwaukee's "Big Three" went to work.
Giannis Antetokounmpo, Khris Middleton and Jrue Holiday combined for 88 points, 24 assists and 20 rebounds on Saturday night, leading the Bucks to a 123-119 win over the Suns and a 3-2 series lead in the 2021 NBA Finals. Milwaukee outscored Phoenix 79-53 in the second and third quarters and was able to hold off a late Suns surge, closing out the victory with a spectacular steal and alley-oop connection between Holiday and Antetokounmpo.
"Big-time steal by Holiday and great pass. I think the pass was all about trust," Antetokounpo told ESPN's Malika Andrews during his postgame interview. "Obviously he could have pulled the ball out, let the clock run and get a good shot, but he trusted me."
Devin Booker had a game-high 40 points in the loss, becoming the first player in NBA Finals history to lose back-to-back games despite scoring 40 or more points in both contests. The Suns will now head back to Milwaukee looking to avoid elimination.
Sporting News provided live updates and highlights from Game 5 of the 2021 NBA Finals. Check out all the highlights you missed right here.
MORE: Watch the NBA Finals live with fuboTV (7-day trial)
Suns vs. Bucks score
| | | | | | |
| --- | --- | --- | --- | --- | --- |
| Game 5 | Q1 | Q2 | Q3 | Q4 | Final |
| Suns | 37 | 24 | 29 | 29 | 119 |
| Bucks | 21 | 43 | 36 | 23 | 123 |
Suns vs. Bucks live updates, highlights from Game 5
(All times Eastern)
Final: Bucks 123, Suns 119
11:35 p.m. — WOW. Jrue Holiday rips the ball away from Devin Booker, then finds Giannis Antetokounmpo on the alley-oop. The Bucks hold on and take a 3-2 series lead.
11:30 p.m. — Devin Booker with a HUGE 3-pointer. Oh, this is fun.
11:25 p.m. — Khris Middleton is CLUTCH.
11:15 p.m. — Just a ridiculous shot here. Chris Paul lofts the fadeaway over Giannis Antetokounmpo.
11:05 p.m. — The Suns have cut the deficit down to single digits.
End of third quarter: Bucks 100, Suns 90
10:55 p.m. — The Bucks have outscored the Suns 79-53 over the past two quarters. Phoenix hasn't been able to contain Jrue Holiday, who is up to 25 points.
10:45 p.m. — If Giannis Antetokounmpo is drilling off-the-dribble jumpers… uh oh.
10:40 p.m. — Is this turning into the Jrue Holiday game?
10:30 p.m. — Khris Middleton. Midrange. Smooth.
Halftime: Bucks 64, Suns 61
10:10 p.m. — Chris Paul beats the buzzer with a layup, but the Bucks head into the locker room with a three-point lead. Jrue Holiday leads all scorers with 18 points.
9:55 p.m. — What a wild run. The Bucks have surged into the lead. Incredible shot-making from both teams so far.
9:50 p.m. — A quick 11-3 run by the Bucks cuts the deficit down to eight points. Much better energy from Milwaukee to start the second quarter. 
End of first quarter: Suns 37, Bucks 21
9:30 p.m. — The Suns' offense is firing on all cylinders. Phoenix is 12 of 15 from the field as a team.
9:20 p.m. — Jae Crowder already has eight points, including this fast-break dunk. Bucks coach Mike Budenholzer is not happy with his squad.
9:15 p.m. — And here we go. Jrue Holiday scores the first points of Game 5.
9:05 p.m. — Suns star Devin Booker scored 42 points on 17-of-28 shooting in Game 4. Can the Bucks slow him down in Game 5?
8:50 p.m. — The starters for each team …
Bucks: Jrue Holiday, Khris Middleton, P.J. Tucker, Giannis Antetokounmpo, Brook Lopez
Suns: Chris Paul, Devin Booker, Mikal Bridges, Jae Crowder, Deandre Ayton
8:30 p.m. — COVID-19 is looming large over the NBA Finals.
Mike Budenholzer says the Bucks will not have a full staff available for tonight's game in the wake of Thanasis Antetokounmpo entering the NBA's Health and Safety Protocols this afternoon ahead of tonight's Game 5.

— Tim Bontemps (@TimBontemps) July 17, 2021
The NBA just announced referee Sean Wright will not work tonight's game because he, too, is in the league's Health and Safety Protocols. James Williams will replace him.

— Tim Bontemps (@TimBontemps) July 17, 2021
Suns vs. Bucks start time
Date: Saturday, July 17
Start time: 9 p.m. ET | 6 p.m. PT
Game 5 of the NBA Finals will tip off at 9 p.m. ET. The series will shift from Phoenix back to Milwaukee for Game 6.
How to watch the NBA Finals
Bucks vs. Suns will be broadcast live on ABC. You can live-stream Game 5 via Watch ESPN or the Watch ESPN app.
The game can also be streamed on fuboTV, which offers a 7-day free trial.
NBA Finals schedule 2021
(All times Eastern)
(3) Bucks vs. (2) Suns: Milwaukee leads 3-2
| | | | |
| --- | --- | --- | --- |
| Date | Game | Time  | National TV |
| July 6 | Suns 118, Bucks 105 | 9 p.m. | ABC |
| July 8 | Suns 118, Bucks 108 | 9 p.m. | ABC |
| July 11 | Bucks 120, Suns 100 | 8 p.m. | ABC |
| July 14 | Bucks 109, Suns 103 | 9 p.m. | ABC |
| July 17 | Bucks 123, Suns 119 | 9 p.m. | ABC |
| July 20 | Game 6 | 9 p.m. | ABC |
| July 22 | Game 7* | 9 p.m. | ABC |
* If necessary