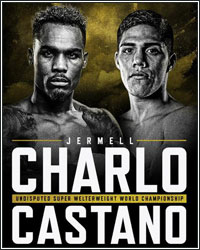 Just last week, I was writing about all the good happening in boxing and how, at least from a competitive "best vs. best" standpoint, we're doing a lot better than we think we are. And now, this week, I'm going to write to you about some fucked up shit going down at the moment. 
Nothing from last week is any less true. We ARE better off than we generally think we are. It's just that boxing remains a very dysfunctional world were dysfunctional crap happens way too often. 
And this summer there's been some dysfunction.
Four big fights bit the dust this summer due to odd, dubious, and/or questionable circumstances. 
Ryan Garcia pulled out of his July 9 bout with Javier Fortuna to "manage" his "health and wellbeing." The withdrawal was attributed to Garcia's issues with depression, anxiety, and mental illness. Critics attributed the withdrawal to a tough stylistic matchup in Fortuna and then jumped with self-righteous "I told you so" glee when the 22-year-old announced himself to be fit and ready to fight again shortly after Fortuna signed on to fight Joseph Diaz Jr.
Teofimo Lopez pulled out of his June 19 mandatory title defense against Australia's George Kambosos, just days before the bout, when he reportedly tested positive for Covid-19. Critics attributed the canceled fight to poor ticket sales and a potential money bloodbath trying to sell a perceived mismatch via pay-per-view on a very boxing-busy June 19. Insiders claim Teo's Covid is real, but real or not, rescheduling has proven to be a real problem in a packed late summer and fall. 
The scheduled August 7 Nonito Donaire-John Riel Casimero bantamweight title unification fell apart when a virtual dust-up ocurred between Team Casimero and Donaire's wife and manager Rachel. Nonito pulled out of the Showtime bout over stated disrespect shown to Rachel. The date was salvaged when fellow bantamweight titlist Guillermo Rigondeaux– who was the original foe for Casimero before Donaire stepped in– got brought back into the picture. 
Then, of course, there's the big one and, arguably, the most dubious postponement/cancellation so far– Tyson Fury-Deontay Wilder 3. 
Just over two weeks before the WBC heavyweight clash in Las Vegas, it was reported that Fury, as well as some of his team and undercard support, had tested positive for Covid-19. The bout was subsequently rescheduled for October 9. However, between the positive test and the official rescheduling, all kinds of weird, story-busting stuff happened. Heavyweight Joseph Parker, who was supposed to be one of those who tested positive, showed up, all smiles, at UFC 264 that same weekend and Fury, himself, showed up at a luxury car rental facility– sans mask– posing for selfies a couple days later.
There was significant backtracking after those two odd public appearances. Parker deleted his social media post from the UFC show and then claimed he had never tested positive in the first place. Later, just hours after Fury-Wilder was officially rescheduled and the Gypsy King's grinning selfies had become a WTF hit on social media, a story was strategically placed in media that Fury had now tested negative and would be flying back home to the UK.
But, really…W. T. F.
I could take a deep dive into these cancellations/postponements and figure out which were legit and which were business-driven BS, but I'd really just be guessing. That's not fair to you or to the fighters. I don't want to turn this space into the Infowars of pugilism or the comment section of Eastside Boxing. 
All I know is that a hot summer got significantly cooler because we lost these four bouts. That sucks.
—-
Okay, lets step away from dysfunction for a bit and focus on something that went very, very right over the weekend– Jermell Charlo vs. Brian Castaño.
I was excited about this fight from the moment I first heard it was happening– and the 4-belt title unification aspect was only the second most appealing thing about it. 
Charlo-Castaño was a sure-fire stylistic barn burner pitting a gutsy come-forward battler (Castaño) against a tall, fight-at-a-distance boxer-puncher (Charlo). Castaño would force Charlo to let his hands go and, in turn, Charlo would have to touch up Castaño to keep the pressure off himself. It was a clash of nearly opposite skill sets and mindsets, bound to be explosive and/or deeply intriguing. And it most definitely turned out as I expected. 
The split decision draw was a fair result, no matter what you're going to read in lame-brained social media boxing groups. It's a good thing I don't go into any boxing groups or read the boxing comments under friends' Facebook posts. I can just imagine the goofiness that was going on Saturday night. 117-111 from judge Nelson Vazquez was a crappy score, but this was a close fight. Personally, I had it a draw, but 115-113 either way would've been reasonable. This was not a controversial decision.
One gets the feeling that the fight would've been solidly Charlo's, had he let his hands go more and worked to seize the initiative. But if a dog could fly, he'd be an eagle. Charlo tries to foster a killer's image, but he's really a calm, clinical boxer at heart, equal parts well-trained and ultra-confident in his power. While the come-forward Castaño forced him to engage more than usual, Charlo remained mostly Charlo-like, carefully picking his shots and looking for just the right opportunities to engage. It took too long for him to win Castaño's respect and stop a forward march that won the Argentinian rounds in the eyes of observers. 
The good thing is that, hopefully, Charlo and Castaño get to do it again and the road to the 4-belt unification is still straight ahead. I will say, though, that Charlo's "I don't know, I have to talk to my team" post-fight comment about a rematch did hint at some dysfunction. That would suck.
Got something for Magno? Send it here: paulmagno@theboxingtribune.com