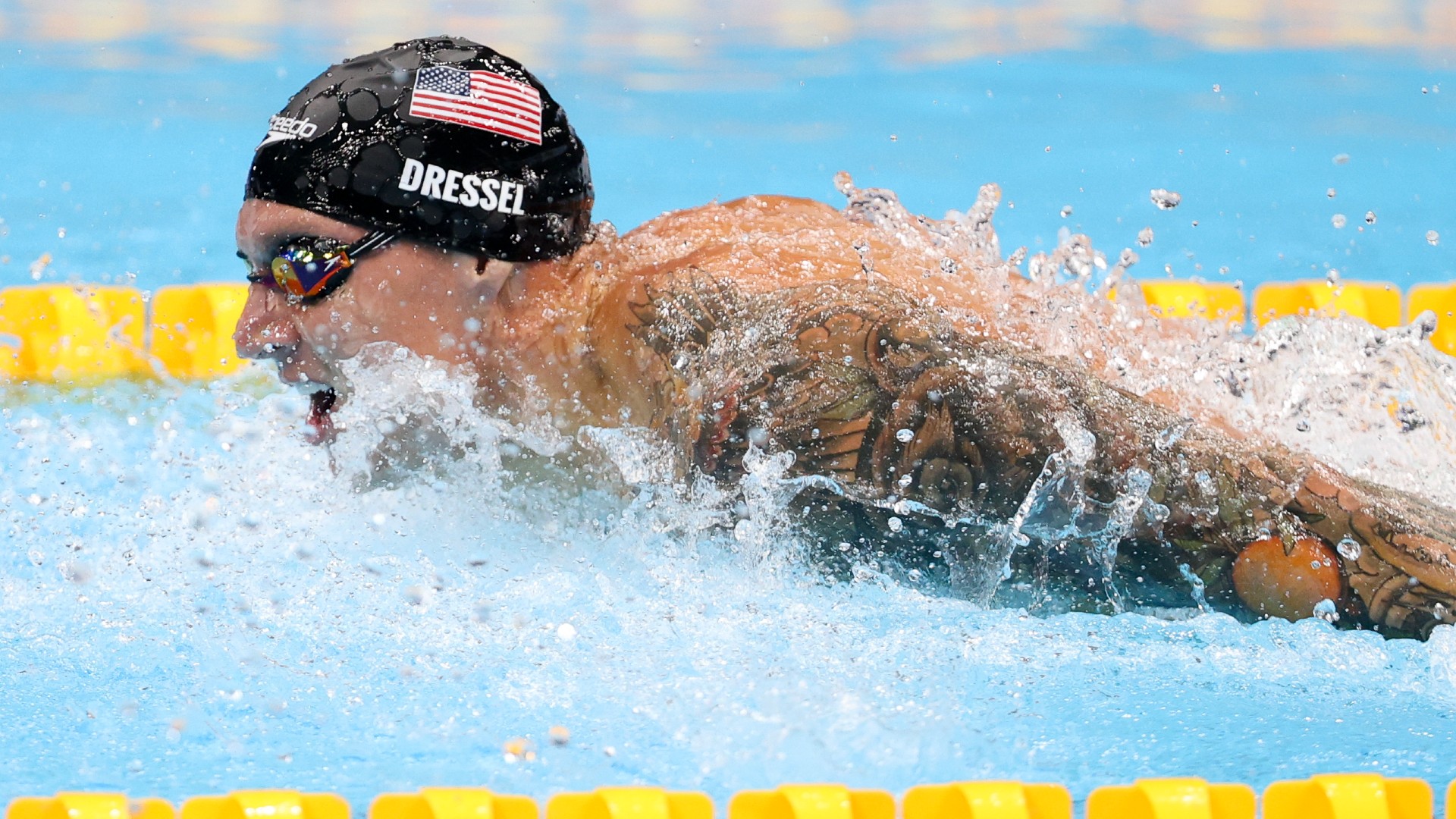 Katie Ledecky and Caeleb Dressel both racing for gold on the same night? That's going to make for an exciting day in Tokyo. 
Dressel kicks off Friday's final events at the Tokyo Aquatics Centre in the 100-meter butterfly, an event in which he set an Olympic record in during the semifinals and in which he already held the world record. Two more Americans race for gold in the women's 200 backstroke final when Phoebe Bacon and Rhyan White race in a tight field against Australians Emily Seebohm and Kaylee McKeown and Canadian Kylie Masse.
Then it's the Ledecky show again as the Olympic and world record-holder in the 800 freestyle races the event for gold. She is heavliy favored for gold, with American teammate Katie Grimes' time of 8:17.05 nearly a second and a half back from Ledecky's time of 8:15.57 in the prelims. That will be the third individual showdown between Ledecky and Australian Ariarne Titmus, who enters the race as the sixth-seeded swimmer with an entry time of 8:18.99. 
Americans will also get to see Simone Manuel race in the semifinal of the women's 50 freestyle not long after Dressel races in his second event of the day. 
The day wraps up with a bit of history as the first mixed-gender event in the history of the Olympics will be held with the 4×100 mixed medley relay. Great Britain enters with the top time from the prelims, but it is a narrow field with the United States not far back of the top qualifying time in the second-fastest lane. 
Sporting News will be providing live updates and highlights from each event during the seventh day of Olympic swimming finals. 
MORE: Watch the 2021 Olympics live with fuboTV (7-day free trial)
Olympics swimming results
| Time (ET) | Event | Winner | 2nd | 3rd |
| --- | --- | --- | --- | --- |
| 9:30 p.m. | Men's 100 Butterfly (Final) | Caeleb Dressel (United States) | Kristof Milak (Hungary) | Noe Ponti (Switzerland) |
| 9:37 p.m. | Women's 200 Backstroke (Final) | Kaylee McKeown (Australia) | Kylie Masse (Canada) | Emily Seebohm (Australia) |
| 9:46 p.m. | Women's 800 Freestyle (Final) | — | — | — |
| 10:11 p.m. | Men's 50 Freestyle (Semifinal 1) | — | — | — |
| 10:16 p.m. | Men's 50 Freestyle (Semifinal 2) | — | — | — |
| 10:32 p.m. | Women's 50 Freestyle (Semifinal 1) | — | — | — |
| 10:37 p.m. | Women's 50 Freestyle (Semifinal 2) | — | — | — |
| 10:43 p.m. | Mixed 4×100 Medley Relay (Final) | — | — | — |
Live swimming updates, highlights from 2021 Olympics
Women's 800 freestyle (final)
9:53 p.m.: Ledecky is now up by about a body length on Titmus — 1.22 seconds — halfway through the race. 
9:51 p.m.: Ledecky's lead is now up over a second at 1.08 ahead of Titmus through 250. 
9:51 p.m.: Through 200 meters, Ledecky leads Titmus by 0.95 seconds. 
9:50 p.m.: The top three remains the same at the end of the first 100. 
9:49 p.m.: Ledecky finishes the first 50 just ahead of Titmus and Grimes. 
9:44 p.m.: Katie Ledecky broke onto the world stage with a win in the 800 freestyle in the 2012 London Games. She won it again in 2016, when she set the world and Olympic records. She's set to go for her third straight Olympic gold in the race as she swims from the fourth lane. American teammate Katie Grimes, a 15-year-old distance swimmer, takes the fifth lane as the second seed. 
Women's 200 backstroke (final)
9:42 p.m.: McKeown powers home for the gold at 2:04.68. Masse takes silver at 2:05.42 and Australian Emily Seebohm takes the bronze at 2:06.17. White finishes fourth at 2:06.39 and Bacon finishes fiftha t 2:06.40. McKeown has now swept the women's backstroke events. 
9:41 p.m.: Masse holding onto the lead with 50 meters left to go. McKeown and Bacon are in second and third. 
9:41 p.m.: Masse and McKeown still in first and second, but Bacon moves up to third. 
9:40 p.m.: Masse leads the field at 29.30 after the first 50 with Australian Kaylee McKeown in second and White in third. 
9:39 p.m.: Masse with the quickest reaction time at 0.54 second. 
9:38 p.m.: There will be two Americans and two Canadians swimming for gold in the women's 200 backstroke: Phoebe Bacon and Rhyan White (USA); Kylie Masse and Taylor Ruck (Canada). Bacon will swim in lane five and White will be in lane three. Masse will swim in lane six and Ruck will swim in lane one. 
Men's 100 butterfly (final)
9:34 p.m.: Milak comes in second at 49.68 and Switzerland's Noe Ponti is third at 50.74. 
9:34 p.m.: It's a new world record for Dressel and his third Olympic gold medal of the race. 49.45 from the American. 
9:33 p.m.: Dressel hits the wall first at 23 seconds. Kristof Milak is second behind him. 
9:33 p.m.: Dressel is the quickest off the wall at 0.60. 
9:30 p.m.: This will be the first of three events for Caeleb Dressel to swim tonight. He has the chance to leave today with two gold medals and a spot in the final in the 50 freestyle tomorrow. 
Caeleb Dressel anchors US mixed medley relay, so he has three swims in 80 minutes. Struggling to think of another swimmer who tripled at an Olympics. Phelps never did. Dressel has done it at worlds.

9:30pm ET 100 butterfly final
10:16 50 free semis
10:43 Mixed medley relay

— Nick Zaccardi (@nzaccardi) July 31, 2021
Olympics swimming schedule 2021
With the exception of July 31, each day will begin with heats starting at 6 a.m. ET and will end with finals races starting up at 9:30 p.m. ET each day. The USA Network will carry the heats in the United States and NBC will have the finals, while CBC will provide coverage of both events in Canada. 
Those in the United States hoping to see replays of the qualifying heats can tune into NBC every afternoon to see how swimmers performed earlier in the morning. 
Friday, July 30
| Event | Time (ET) | Channel (U.S.) | Channel (Canada) |
| --- | --- | --- | --- |
| Heats | 6 a.m. | USA | CBC |
| Finals | 9:30 p.m. | NBC | CBC |
Saturday, July 31
| Event | Time (ET) | Channel (U.S.) | Channel (Canada) |
| --- | --- | --- | --- |
| Finals | 9:30 p.m. | NBC | CBC |