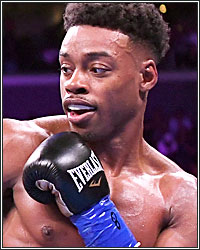 Back in June, I wrote an article hailing "Boxing's Big-Time 2021 Comeback" and ended the piece with a jubilantly defiant: "So, sit back and enjoy the summer of 2021. Fuck you, Covid. Boxing is back." 
Well, yeah, that one didn't age so well. 
After a brutal wave of COVID-19 infections (of the Delta variant variety) and some general tough breaks, most every fight I was excited to see has fallen apart.
Tyson Fury-Deontay Wilder 3 got pushed back after Fury and members of his team, supposedly, tested positive for COVID. That postponement also pushed back the loaded all-heavyweight undercard that was supposed to happen that night.
Teofimo Lopez, who was set to face George Kambosos in an it's-not-great-but-it's-something bout, also had to pull out of his fight due to COVID. 
David Benavidez was forced to pull out of his August 28 fight due to COVID.
Then, of course, through a series of missteps and mismanagements, Saul Alvarez had to move his September 18 bout to November.
And now, Errol Spence withdraws from his big-ticket bout with Manny Pacquiao with a retinal tear. Yordenis Ugas snatched up the late replacement role versus the Filipino icon, but while Pacquiao-Ugas is decent, it's just not as weighty as Pacquiao-Spence. 
The scrapping of a damn good late summer fight schedule was a brutal blow to fight fans. 
The BS fights on the schedule, however, seem perfectly healthy and ready to be delivered. Oscar De La Hoya-Vitor Belfort is still on for September 11. Anderson Silva vs. Tito Ortiz in a boxing match has been slated for the Oscar-Belfort card. David Haye vs. that billionaire putz will probably go off without a hitch. Jake Paul vs, Tyron Woodley on August 29 is still on the schedule.. 
THOSE fights are fine. Nothing's happening to THEM. Sheesh.
Always count on boxing to deliver, right?
*          *          *          *          *
Speaking of discontent…
The WBA announced on Thursday that the most putrid of the three putrid judges who delivered the putrid unanimous decision for Gabriel Maestre over Mykal Fox on August 7 was suspended. 
WBA President Gilberto Mendoza Jr. said that the interim WBA welterweight title up for grabs that evening would be declared vacant and urged the Minnesota State Athletic Commission, which has sole authority to change any official decision, to declare the bout a no contest. 
Mendoza also directed scorn at Martinez Rizzo's uncovered history of racist rhetoric on social media, intimating that she could be in for expulsion from the WBA. 
The WBA president really had no choice but to bite the bullet and go public and aggressive in dealing with this Fox-Maestre mess. Things were looking ugly for him and his organization, with some declaring this egregious decision to be the final straw in removing the sanctioning body from the short list of recognized world championship organizations. 
From beginning to end, it looked as though the fix was in to get that interim title on Maestre's waist. 
Maestre, a two-time Olympian representing Venezuela with a reportedly close relationship with fellow Venezuelan Mendoza, shot up the ranks to get the title shot in just his fourth pro fight. He "somehow" got illegally wrapped gloves approved by a commission supervisor (but was forced by the ref to re-tape them, in ring, after Fox's team caught the violation). Team Maestre even had a WBA official working their corner during the fight. Then, of course, came the horrible decision from the judges and the revelation that the worst of the bunch, Martinez Rizzo, not only had a racist past, but was also married to a WBA executive with a very sketchy past. 
But let's put some context to Mendoza's come-to-Jesus moment late last week.
Martinez Rizzo– with the same racist past, the same dubious qualifications, and the same sketchy ties– was named WBA Judge of the Year in 2019. If Fox-Maestre had not been on TV and the WTF had not been picked up by so many members of the media, she would've remained a judge in good standing with the WBA. Really, her only actionable crime in the eyes of Mendoza was probably going so far overboard in being a company stooge, turning in a wildly obscene 117-110 score for a fighter who should've lost 118-109. If she had turned in a114-113 score like judge cohort David Singh, she wouldn't have made herself such a big target for outrage and this screwjob likely would've been swept under the carpet. 
It's easy to see the light after you've been busted and dragged out into the light. Mendoza and the WBA get zero credit for condemning an injustice they created. 
Got something for Paul Magno? Send it here: paulmagno@theboxingtribune.com