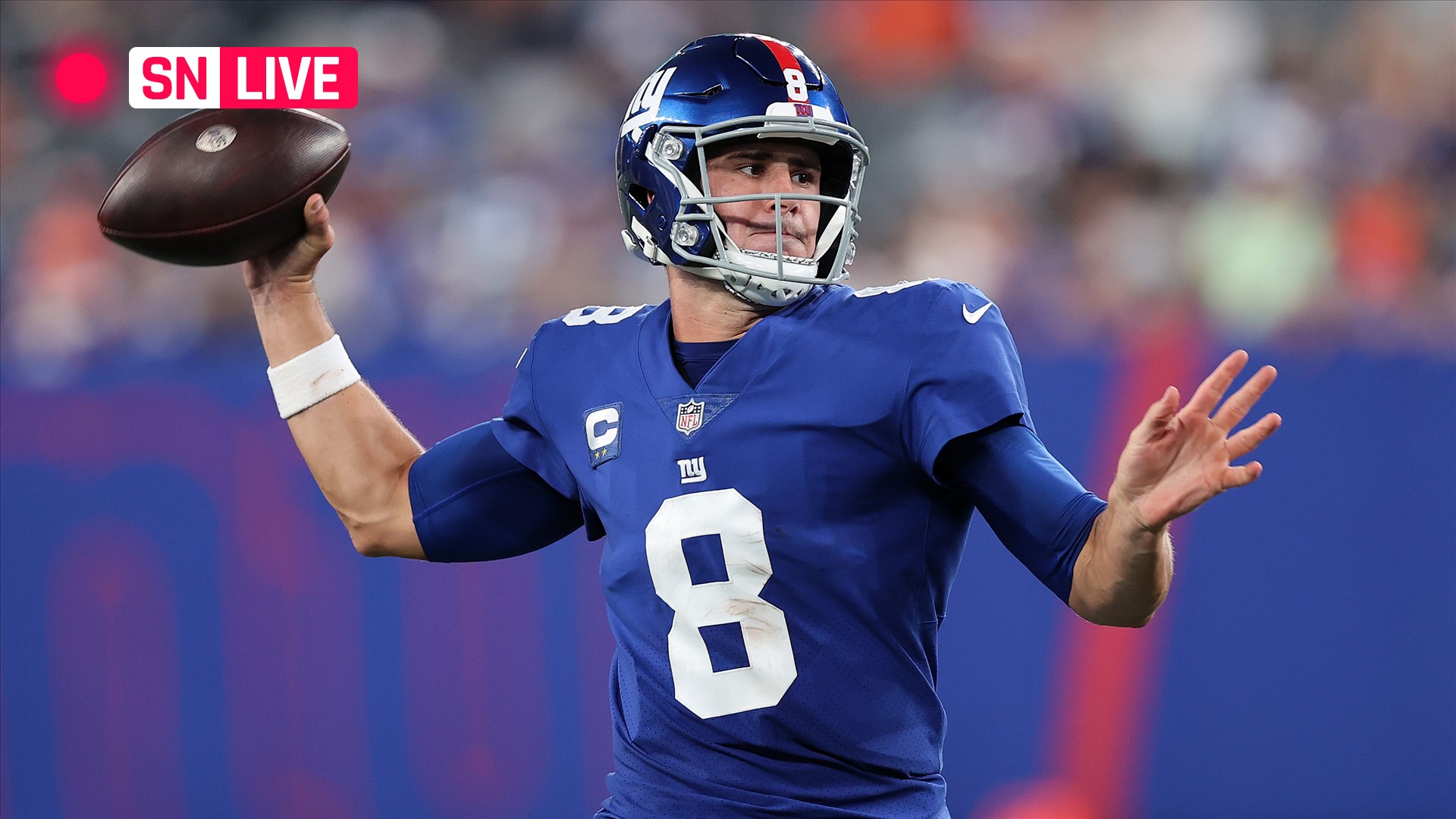 The Washington Football Team and the Giants are fighting for their first win of the 2021 tonight on "Thursday Night Football."
After Ryan Fitzpatrick's hip injury on Sunday, Washington's Taylor Heinicke will make his first start since the 2020 NFL playoffs. Heinicke stepped in for Fitzpatrick against the Chargers, completing 11 of 15 passes for a total of 122 yards and a touchdown. 
MORE: Washington to start Taylor Heinicke
Giants quarterback Daniel Jones still needs to prove himself worthy of staying with the Giants after Sunday's loss to the Broncos. Saquon Barkley's performance last week was another letdown for the Giants — he rushed for just 26 yards on 10 carries and was questionable Thursday with a knee injury. 
Washington has lost to the Giants in its last five meetings, but enters Week 2 as a 3.5-point favorite in the NFC East matchup.
Sporting News is tracking live updates and highlights from the Giants vs. WFT game on Thursday. Follow for complete results from the Week 2 matchup.
MORE: Watch Giants vs. Washington live with fuboTV (7-day free trial)
Giants vs. Washington score
| | | | | | |
| --- | --- | --- | --- | --- | --- |
|   | Q1 | Q2 | Q3 | Q4 | F |
| Giants | 7 | – | – | – | – |
| Washington | 0 | – | – | – | – |
Giants vs. Washington live updates, highlights from 'Thursday Night Football'
Giants 7, Washington 7
9:10 p.m. — TOUCHDOWN. Following a McLaurin first down, McLaurin catches an 11-yard throw to put Washington on the board. Tied ball game.
9:07 p.m. — Washington follows it up with another first down by Antonio Gibson.
9:06 p.m. — Washington opens up the second quarter with a failed third and one yard attempt. They went for the fourth down, then getting the first down.
End of first quarter: Giants 7, Washington 0
9:02 p.m. — Terry McLaurin catches the ball for a gain of 12 yards and another Washington first down.
9:00 p.m. — Washington makes their first first down of the game. Dyami Brown makes the 22-yard catch.
8:55 p.m. — Down goes Jones on third down from a Chase Young assisted sack. The Giants lose the ball and get pushed out of field goal territory.
8:53 p.m. — Giants call their first timeout of the game.
8:51 p.m. — Barkley rushes for a 41-yard first down. This is the confidence the Giants needed.
8:47 p.m. — Gates is carted off the field with a lower leg injury. He received a round of applause from the crowd. This is a big loss for the Giants. 
Giants OL Nick Gates has a lower-leg fracture, according to the team. He's obviously out for this game. That looked like he's going to be out for the season, too.

— Ralph Vacchiano (@RVacchianoSNY) September 17, 2021
8:45 p.m. — Play pauses as Giants center Nick Gates looks hurt on the field.
8:40 p.m. — Washingotn has another unsuccessful possession. Three downs and they're done.
Giants 7, Washington 0
8:34 p.m. — TOUCHDOWN. Jones rushes in six yards for the first touchdown of the game. The Giants had 11 plays for 71 yards.
8:33 p.m. — Washington's Chase Young is flagged for roughing the passer, automatic first down for the Giants.
8:32 p.m. — Jones takes matters into his own hands and runs for a 15-yard gain and first down. The Giants land on Washington's 14-yard line.
8:30 p.m. — Jones' sack is followed by a 12-yard first down pass caught by Sterling Shepard. The Giants are now in field goal territory. 
8:30 p.m. — And, already a Giants sack. Jonathan Allen takes down the quarterback for a loss of two yards.
8:29 p.m. — Kenny Golladay advances 17 more yards for another Giants first down, as New York enters Washington territory.
8:28 p.m. — Kyle Rudolph catches Daniel Jones' 12-yard throw for a Giants first down, the first first down of the game.
8:27 p.m. — Saquon Barkley gets the first rushing drive of the game, advancing five yards for the Giants on their 26-yard line.
8:25 p.m. — Azeez Ojulari of the Giants sacks Heinicke and Washington loses the ball.
8:24 p.m. — Taylor Heinicke's first throw of the day is incomplete to Logan Thomas and is almost picked up by the Giants.
8:23 p.m. — DeAndre Carter returns the ball for Washington for 22 yards as the second week of NFL kickoffs.
How to watch Giants vs. Washington
Time: 8:20 p.m. ET
TV channels: NFL Network
Live stream: NFL Network, fuboTV
The Giants and Washington kickoff will be at 8:20 p.m. ET. Pregame coverage will be on the local NBC Sports affiliates in New York and Washington starting at 7:00 p.m. ET.
Thursday night's game will be played at FedEx Field in Prince George's County, Md. 
'Thursday Night Football' schedule 2021
| | | | |
| --- | --- | --- | --- |
| Week | Date | Matchup | TV channel |
| 2 | Sept. 16 | Washington Football Team vs. Dallas Cowboys | NFL Network |
| 3 | Sept. 23 | Houston Texans vs. Carolina Panthers | NFL Network |
| 4 | Sept. 30 | Cincinnati Bengals vs. Jacksonville Jaguars | NFL Network |
| 5 | Oct. 7 | Seattle Seahawks vs. Los Angeles Rams | Fox, NFLN, Amazon |
| 6 | Oct. 14 | Philadelphia Eagles vs. Tampa Bay Buccaneers | NFL Network |
| 7 | Oct. 21 | Cleveland Browns vs. Denver Broncos | Fox, NFLN, Amazon |
| 8 | Oct. 28 | Arizona Cardinals vs. Green Bay Packers | Fox, NFLN, Amazon |
| 9 | Nov. 4 | Indianapolis Colts vs. New York Jets | Fox, NFLN, Amazon |
| 10 | Nov. 11 | Miami Dolphins vs. Baltimore Ravens | Fox, NFLN, Amazon |
| 11 | Nov. 18 | Atlanta Falcons vs. New England Patriots | Fox, NFLN, Amazon |
| 12 | Nov. 25 | New Orleans Saints vs. Buffalo Bills | Fox, NFLN, Amazon |
| 13 | Dec. 2 | New Orleans Saints vs. Dallas Cowboys | Fox, NFLN, Amazon |
| 14 | Dec. 9 | Minnesota Vikings vs. Pittsburgh Steelers | Fox, NFLN, Amazon |
| 15 | Dec. 16 | Los Angeles Chargers vs. Kansas City Chiefs | Fox, NFLN, Amazon |
| 16 | Dec. 23 | Tennessee Titans vs. San Francisco 49ers | NFL Network |
| 16 | Dec. 25 (Saturday) | Green Bay Packers vs. Cleveland Browns | Fox, NFLN, Amazon |
| 16 | Dec. 25 (Saturday) | Arizona Cardinals vs. Indianapolis Colts | NFL Network |