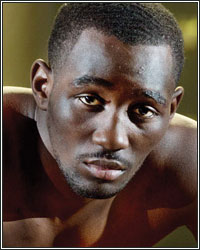 Unless Lambda, Mu, and Kappa COVID-19 variants rip through the world, cock-blocking good times, this fall is shaping up to be pretty damn sweet for true blue boxing fans in general and for me, specifically.
I don't even know how to explain how psyched I am to see Terence Crawford-Shawn Porter signed and sealed for November 20.
Sure, this isn't the biggest fight to be made at welterweight. It's not the most crucial to the division, either. But it very well could be the BEST fight to make at 147. 
Crawford-Errol Spence, which is on the three-finger count of boxing's most important bouts, looks like it may never get made. And, if I'm being 100% real with you, Spence is starting to give off an "I may be done" vibe after the injuries sustained in his fall, 2019 car crash and his recent retinal tear. I hope I'm wrong, but life momentum is definitely not sweeping "The Truth" up in a push towards greatness anymore. 
Stylistically, Crawford-Porter should be a can't miss exhibition of beautiful brutality. Porter will barrel in and put pressure on Crawford like no one else has ever done. "Bud" will have to fend off fists, elbows, shoulders, and the occasional headbutt. I say he's up to the task and we see the very best Terence Crawford that night. But Porter has a knack for applying the kind of pressure that pulls opponents away from their game plan. It'll be interesting to see whether he can do that to a mega-focused, mega-motivated Crawford and that, if he does, will rattling the tiger cage be bad news for him. 
The only thing that could ruin this one is if Porter decides that he wants to "box" and stink up the joint, like he did against Yordenis Ugas. Hopefully, he learned his lesson from that mess of a fight and now understands that a loss in a barn-burner is much more beneficial to his earning potential than a dull win. Plus, he's just much more effective being the hard-charging battler that he is. 
Also this fall, November 6 to be exact, Saul "Canelo" Alvarez-Caleb Plant finally happens. 
Canelo is the heavy, heavy betting favorite (and rightfully so), but I just get this feeling about Plant and his chances of putting up a real good fight. Maybe it's wishful thinking. After all, I do consider myself a fan of Plant's. But the guy is wearing a script-flipping aura in the lead up to this fight and I think fans/media are criminally overlooking his skills and general toughness.
At any rate, no matter what happens, Canelo is "must watch" TV at this point and he puts on a hell of a show. If he obliterates Plant, it'll just be a prelude to his next challenge against Charlo, Benavidez, Bivol, or whoever. 
Before Crawford-Porter and Canelo-Plant, there's Tyson Fury-Deontay Wilder 3 on October 9.
I know that after the curb stomping Wilder suffered in their last fight, there should be no reason to expect anything less than another Fury shellacking of the Bronze Bomber. Wilder, however, is never NOT going to be a compelling presence and he's never NOT going to be one punch away from turning any tide. 
With his back against the proverbial wall, working under the knowledge that another loss could mean the end of his championship hopes for a good, long while (maybe forever), Wilder will be winging shots with even more urgency. Part 3 of this rivalry HAS to be a compelling drama. 
For the jaded cynic inside me, this fall even affords me a "fuck you" opportunity, hurled at mish-mosh streaming/social networking service Triller for their utter shittiness in throwing a boxing legend like Evander Holyfield out to be sacrificed on September 11 to, of all people, Vitor, fucking, Belfort.
Triller has attached a $49.99 PPV price tag to the mandatory that won't go away, Teofimo Lopez vs. George Kambosos, on October 4, something which pretty much guarantees a major financial fail. Aside from the ridiculous $50 purchase price, the fact is that Lopez-Kambosos is just a weak-ass fight with a shitty undercard and an odd Monday air date. This will be a splendid bit of boxing karma heading Triller's way.
I'm crossing my fingers and lighting St. Jude candles in hopes that everything that's supposed to happen DOES happen. In boxing– especially these days– you can't take anything for granted.
Got something for Magno? Send it here: paulmagno@theboxingtribune.com