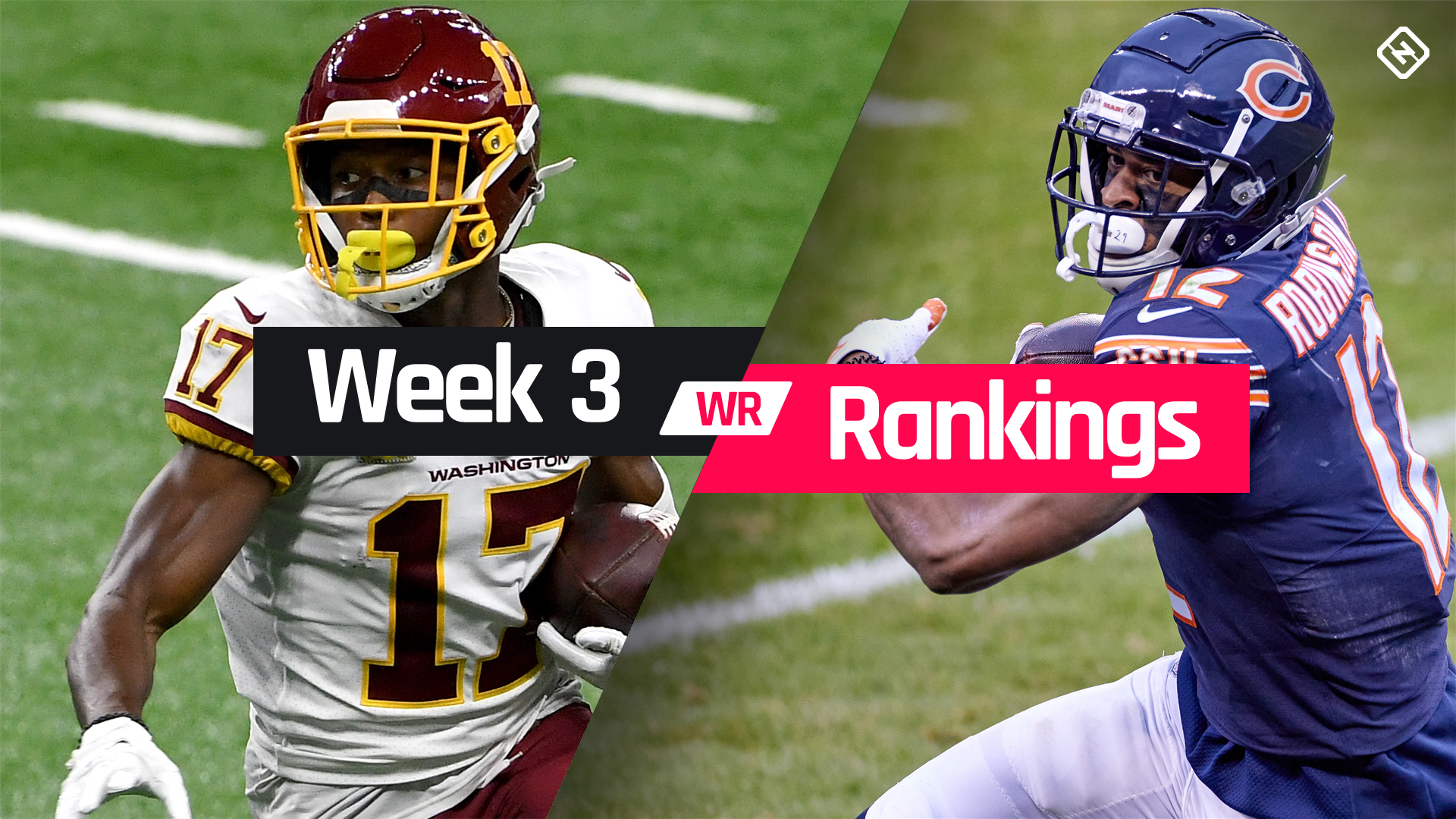 Rank
Player
1
DeAndre Hopkins, ARI @ JAX
2
Tyreek Hill, KC vs. LAC
3
Davante Adams, GB @ SF
4
Tyler Lockett, SEA @ MIN
5
Stefon Diggs, BUF vs. WAS
6
DK Metcalf, SEA @ MIN
7
Keenan Allen, LAC @ KC
8
Calvin Ridley, ATL @ NYG
9
Cooper Kupp, LAR vs. TB. It's time to view Kupp as a top-10 play at the position this year, regardless of format. He's currently No. 1 in PPR leagues and No. 2 in standard over the first two weeks. That said, the Tampa Bay defense is still a scary matchup, even though their weakness is at cornerback. They'll at least have some answers to limit Kupp so we don't have him at the top this week, but his upside looks like the overall WR1 any given week.
10
Justin Jefferson, MIN vs SEA. Jefferson, Adam Thielen, and K.J. Osborn are all inside the top-30 WRs in either format, but weirdly enough, Jefferson is third among Vikings' wideouts in FPPG. This should correct itself with time, and the Seahawks defense doesn't scare anyone in the backend. You could probably even play all three receivers in the same lineup and get solid production. Osborn hasn't quite climbed our rankings dramatically yet, but if he has another nice game, he'll surely ascend even more than he has.
11
Adam Thielen, MIN vs. SEA. See Justin Jefferson.
12
CeeDee Lamb, DAL vs. PHI. As suspected, Lamb and Amari Cooper will take turns being the No.1 WR in Dallas week to week. In Week 2, it was Lamb who led all Cowboys' pass-catchers with nine targets. The Eagles' secondary actually looks respectable, so we'll see how productive the Cowboys' wideouts are. We're sure whichever WR we rank lower will be the one who emerges that week, but the good news is both always have top-12 upside.
13
Allen Robinson, CHI @ CLE. Robinson would've been a complete bust in Week 2 if he hadn't scored a touchdown. He caught just two-of-four targets for 24 yards and didn't look to have an early connection with Justin Fields. The Browns' secondary didn't look all that impressive vs. Houston, so it could be time for Robinson to finally emerge this season. We'll see how Fields looks after a full week with the first-team offense (assuming Andy Dalton's bum knee keeps him out).
14
Chris Godwin, TB @ LAR. It's tough to tell who Jalen Ramsey will cover in this matchup, but we suspect it will be Mike Evans. With Godwin operating out of the slot, he's probably the least likely to be shadowed by Ramsey. That said, he could be the focal point of the Buccaneers offense this week. Antonio Brown only caught one pass vs. Atlanta, but he should see a bounce-back performance if he avoids Ramsey. Since Evans is the likely Ramsey victim, he has bust potential written all over him.
15
Courtland Sutton, DEN vs. NYJ. Sutton had a career day with nine catches on 12 targets and 159 yards. He is the current league leader air yards (the amount of yards the ball travels in the air on a passing play, from the line of scrimmage to contact point.) with 301, so clearly, Teddy Bridgewater is willing to push the ball down the field to him. He gets another juicy matchup with the Jets in Week 3 at home, so wheels up for Sutton.
16
A.J. Brown, TEN vs. IND. Brown struggled mightily at Seattle, but he usually doesn't stay down long. He still led all Titans with nine targets but secured just three for 43 yards. Meanwhile, Julio Jones drew eight targets and caught six of them for 128 yards and had a touchdown reversed in a controversial ruling. Is this a sign Julio is going to take over the No. 1 WR job? We don't know yet, so for now, we'll have Brown ranked ahead of him. Make no mistake, though, you want to be playing both of these guys. The Colts' defense hasn't shown they have trouble against high-flying passing offenses.
17
D.J. Moore, CAR @ HOU. Moore looks comfortable with Sam Darnold early, and it paid off to the tune of 11 targets, eight catches, 87 yards, and a touchdown in Week 2. Houston's defense should be a prime candidate for Moore to build on his excellent performance. It seems he's finally establishing himself as the bona fide No. 1 WR, while Robby Anderson is now back to his deep-threat role.
18
Brandin Cooks, HOU vs. CAR. It doesn't matter who the quarterback is for Houston — Cooks is going to be heavily targeted. In Week 2 at Cleveland, Cooks drew 14 targets, catching nine for 78 yards and a touchdown. The next closest Texans were a foursome that had two targets each. If Davis Mills is starting (and it sure sounds like he will), he'll rely on Cooks. He refuses to be mediocre regardless of his surroundings. His PPR floor is high, but he also has a top-notch upside with his deep-threat ability.
19
Terry McLaurin, WAS @ BUF. Backup quarterbacks often rely heavily on their stud WR. This was the case in Taylor Heinicke's first start of the season vs. Giants, as he targeted McLaurin 14 times, yielding 11 catches for 107 yards and a touchdown. It's quite simple really — backup quarterbacks are backups for a reason, and they don't flourish at going through a full possession of reads, so they lock in on their No. 1 WR. So, in a way, this is a good thing for McLaurin. However, he will get the Tre'Davious White treatment as Washington travels to Buffalo, so we'll see how efficient he is with those targets.
20
Marquise Brown, BAL @ DET. Evidently, Brown is on pace for a true breakout season. Through two weeks, he's netted 12 catches for 182 yards and two touchdowns. While we've been accustomed to staying away from the Ravens' passing attack outside of Mark Andrews, Brown is clearly the top receiving threat in the offense now. Detroit will probably be bottom five in fantasy points allowed to WRs at season's end, so we love this matchup. There is a chance this game gets out of hand early and the Ravens just pound the ball, but it would be tough to justify benching him at this point.
21
Amari Cooper, DAL vs. PHI. See CeeDee Lamb
22
Deebo Samuel, SF vs. GB. Samuel is the No. 1 WR in San Francisco, and he'll remain in that chair until further notice. With Brandon Aiyuk in the Kyle Shanahan doghouse, Samuel benefits greatly. He leads the league in receiving yards (282) after two weeks, so it's easy to see why we love him. We'll see how Green Bay's defense looks against Detroit, but it sure looked awful against the Saints.
23
Antonio Brown, TB @ LAR. See Chris Godwin.
24
DeVonta Smith, PHI @ DAL. This could be a huge breakout game for Smith after a major down week vs. the 49ers in Week 2. While he caught just two passes for 16 yards, he led all Eagles in targets with seven. His performance stung last week, but we always like a No. 1 WR in a matchup against the Cowboys. Jalen Reagor is an OK option at flex, but there might not be enough passing work to go around. If you're in super deep leagues and/or are just feeling dangerous, Quez Watkins is a guy who will always have a chance to score on a deep ball, which is best for standard leagues or DFS lineups.
25
Diontae Johnson, PIT vs. CIN. Diontae Johnson looks to be on track to play in Week 3, and although the Steelers offense is awful, Johnson has drawn 22 targets through two weeks. He's a great play in PPR leagues for that reason alone. Juju Smith-Schuster and Chase Claypool also receive their fair share of targets in this short passing game, but they're more of flex considerations.
26
Mike Evans, TB @ LAR. See Chris Godwin.
27
Julio Jones, TEN vs. IND. See A.J. Brown.
28
Sterling Shepard, NYG vs. ATL. Shepard is all of a sudden a great play at your flex position. He is tied for the lead for receptions (16) in the NFL and looks like Daniel Jones' true No. 1 WR. Kenny Golladay hasn't been effective thus far, but maybe he'll start being a factor in a great matchup for WRs vs. Atlanta. If nothing else, he draws some coverage away from Shepard
29
Ja'Marr Chase, CIN vs. PIT. The Raiders had success against the Steelers defense, but Derek Carr is playing at a level well above Joe Burrow. Cincinnati still has offensive line issues, and the Steelers' front seven isn't going to let Burrow get comfortable. One of the Bengals WRs' will have a nice day surely, but we can't expect all three of them to do so. It's honestly a crapshoot as to who will lead the team in fantasy points among WRs, but Chase is our pick this week, despite only having four targets last week. Tee Higgins (9 targets) and Tyler Boyd (10 targets) could have something to say about that, though.
30
Rondale Moore, ARI @ JAX. Moore is top 10 in the league in receiving yards (182) and he had a breakout game last week, catching seven passes for 114 yards and a touchdown. Against Jacksonville, we're targeting the entire Cardinals offense this week, including Christian Kirk.
31
Chase Claypool, PIT vs. CIN. See Diontae Johnson.
32
Robby Anderson, CAR @ HOU. See D.J. Moore
33
DJ Chark, Jaguars, JAX vs. ARI
34
Tee Higgins, CIN @ PIT. See Ja'Marr Chase.
35
Mike Williams, LAC @ KC
36
JuJu Smith-Schuster, PIT vs. CIN. See Diontae Johnson.
37
Michael Pittman Jr., IND @ TEN
38
Marvin Jones, JAX vs. ARI
39
Robert Woods, LAR vs. TB
40
Odell Beckham Jr., CLE vs. CHI
41
Christian Kirk, ARI @ JAX. See Rondale Moore
42
Kenny Golladay, NYG vs. ATL. See Sterling Shepard.
43
Corey Davis, NYJ @ DEN
44
Zach Pascal, IND @ TEN
45
Tim Patrick, DEN vs. NYJ
46
Jaylen Waddle, MIA @ LV
47
Tyler Boyd, CIN @ PIT. See Ja'Marr Chase.
48
Jakobi Meyers, NE vs. NO
49
Sammy Watkins, BAL @ DET
50
Laviska Shenault Jr., JAX vs. ARI
51
Will Fuller V, MIA @ LV
52
Jalen Reagor, PHI @ DAL. See DeVonta Smith.
53
Darnell Mooney, CHI @ CLE
54
Cole Beasley, BUF vs. WAS
55
K.J. Osborn, MIN vs. SEA. See Justin Jefferson.
56
Quintez Cephus, DET vs. BAL
57
Nelson Agholor, NE vs. NO
58
DeVante Parker, MIA @ LV
59
Darius Slayton, NYG vs. ATL
60
A.J. Green, ARI @ JAX
61
Quez Watkins, PHI @ DAL. See DeVonta Smith
62
Marquez Valdes-Scantling, GB @ SF
63
Russell Gage, ATL @ NYG
64
Henry Ruggs III, LV vs. MIA
65
Brandon Aiyuk, SF vs. GB
66
Marquez Callaway, NO @ NE
67
Bryan Edwards, LV vs. MIA
68
Mecole Hardman, KC vs. LAC
69
Hunter Renfrow, LV vs. MIA
70
Emmanuel Sanders, BUF vs. WAS
71
Tyrell Williams, DET vs. BAL
72
KJ Hamler, DEN vs. NYJ
73
Jamison Crowder, NYJ @ DEN
74
Randall Cobb, GB @ SF
75
Deonte Harris, NO @ NE
76
Allen Lazard, GB @ SF
77
Gabriel Davis, BUF vs. WAS
78
Demarcus Robinson, KC vs. LAC
79
Van Jefferson, LAR vs. TB
80
Anthony Schwartz, CLE vs. CHI
81
Terrace Marshall Jr., CAR @ HOU
82
Marquise Goodwin, CHI @ CLE
83
Jalen Guyton, LAC @ KC
84
Braxton Berrios, NYJ @ DEN
85
Dyami Brown, WAS @ BUF
86
Byron Pringle, KC vs. LAC
87
DeSean Jackson, LAR vs. TB
88
D'Wayne Eskridge, SEA @ MIN
89
Kadarius Toney, NYG vs. ATL