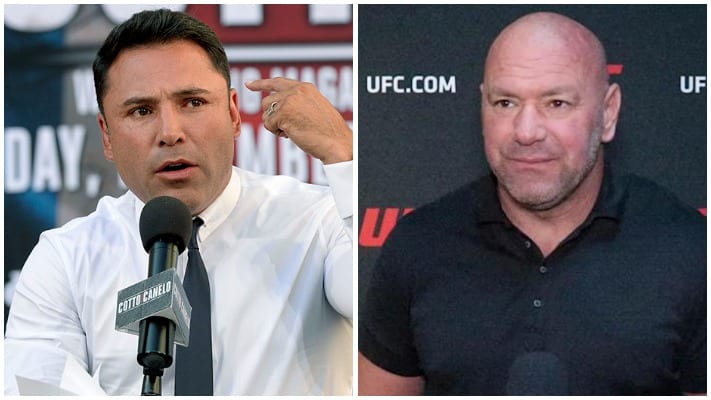 Dana White and Oscar De La Hoya's beef continued at UFC 266.
The headliner saw Alexander Volkanovski successfully defend his featherweight title after a back-and-forth war with Brian Ortega last night that resulted in a unanimous decision victory.
De La Hoya took the opportunity to congratulate Volkanovski for his performance while firing a shot at White along the way in regards to fighter pay.
"Hey @alexvolkanovski you just won a brutal battle for @ufc and made 1/20 of what you're worth. @danawhite have some fucking respect for yourself and these fighters and pay these warriors what they deserve"
It didn't take long for the UFC head honcho to fire back at the boxing promoter and as usual, White went to his go-to of calling De La Hoya a crackhead.
"STFU U crack head. Faking that u had Covid and robbing me of watching u get KTFO by @vitorbelfort you should win an academy award for your hospital performance."
White is referring to De La Hoya's planned boxing bout with Vitor Belfort earlier this month which was pulled after De La Hoya tested positive for COVID-19. Evander Holyfield ended up stepping in for De La Hoya and losing a first-round TKO to Belfort.
While De La Hoya likely made the tweet for PR purposes as well as to make White look bad, he certainly has a point.