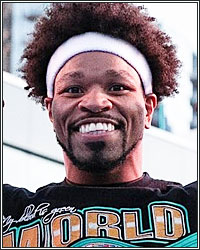 Inspired by the Marvel/Disney Plus series "What If" and as a tribute to the old school comic that inspired it, here's a bit of "What If-ism" pointed at the boxing world. Agree, disagree, hurl personal insults in the comment section below.
What if Shawn Porter beats Terence Crawford?
It was clear that things weren't entirely going Terence Crawford's way when he was outworked by underdog Shawn Porter in the first three rounds of their contest, immediately falling in a 0-3 hole on the scorecards. 
By the middle of the fourth, however, Crawford righted his ship and was showing the world why many still regard him as the best pound-for-pound fighter in the world. 
A tenacious Porter kept coming forward, but he was being outboxed and touched up by a sharp, confident Crawford who had made the proper adjustments to take full control of the bout. 
From the end of the fourth to the beginning of the ninth, the fight was all Crawford as he boxed beautifully while still managing to lay some serious leather on his opponent. 
But there's no quit in Porter. Bloody and sporting a swollen eye that looked to be three or four solid shots away from being shut completely, he pushed ahead, knowing that his only shot at that point was a shot in the dark, one last throw-all-caution-to-the-wind assault to snatch victory from the jaws of defeat– and he succeeded.
A right hand bomb from nowhere in the middle of the ninth round catches Crawford and drops him hard. He gets up quick, beating the count by a good four seconds, but he's completely out on his feet. He falls again under a buzzsaw onslaught from Porter. This time, the ref just waves off the contest, doing his best to keep the proud champion on the canvas for medical attention. 
The upset victory propels the new WBO welterweight champion to a rematch with Errol Spence, which results in another close and spirited decision loss. It also opens the door, indirectly, for en emergent Jaron Ennis to capture three world title belts in his first title fight with a victory over Spence 18 months later. 
Crawford, meanwhile, opts not to re-sign with Top Rank after this last bout of his contract and decides, instead, to work as a promotional free agent with loose ties to the Premier Boxing Champions brand. 
After a "welcome in" win over Abel Ramos, a re-focused, re-energized Crawford stops Keith Thurman in eight brutally one-sided rounds in his return to pay-per-view.