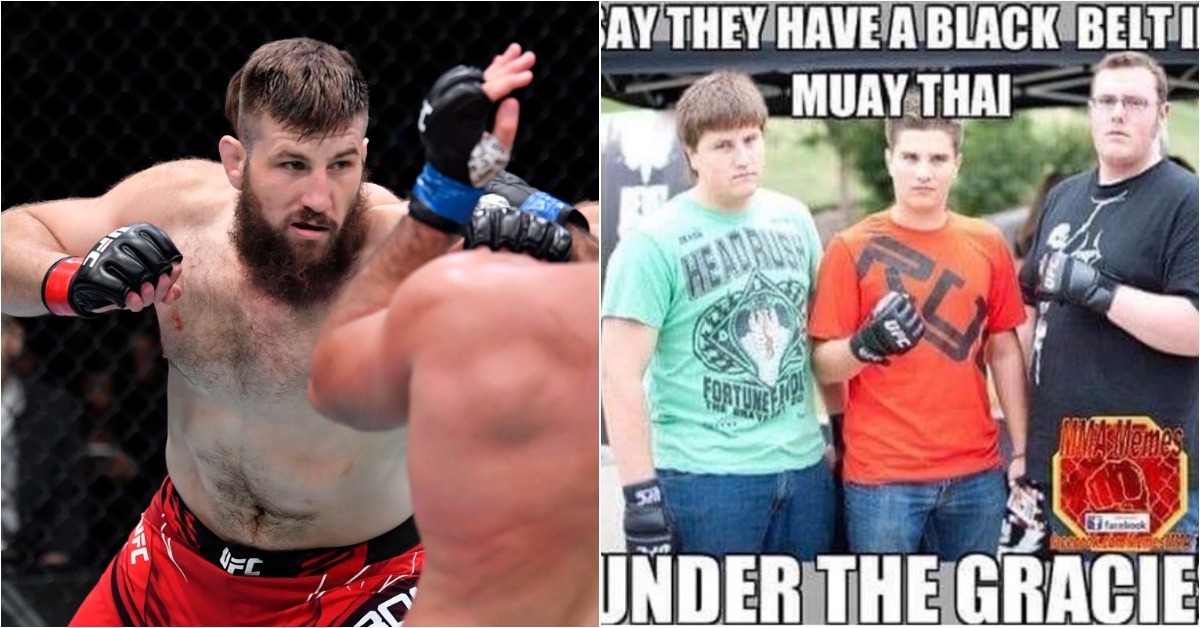 UFC heavyweight contender, Tanner Boser has revealed he is one of three men featured in a resurfaced mixed martial arts meme — titled, "Say they have a black belt in Muay Thai, under the Gracies."
Boser, a native of Alberta, Canada has featured seven times under the UFC's banner since his move from Canadian promotion, Unified MMA back in May 2019 — establishing a 4-3 record so far.
The 30-year-old heavyweight has featured against the likes of former champion, Andrei Arlovski, current interim champion, Ciryl Gane and Ilir Latifi in losses — but has captured wins against Ovince Saint Preux, Raphael Pessoa, Philipe Lins, and Daniel Spitz. Boser was slated to feature opposite Sergei Pavlovich next month until travel issues shelved the bout.
Tanner Boser confirms he featured in forgotten MMA meme

However, an old meme resurfaced on Twitter recently of three teenagers with the caption "Say they have a black belt in Muay Thai under the Gracies" and quite stunningly, Boser confirmed he is the teen on the left wearing a Headrush t-shirt and UFC gloves.
"This mem has been floating around MMA pages for years," Tanner Boser tweeted. "I'm the guy on the left. We were like 19 years old in line at a UFC fan expo to get UFC gloves signed by Wanderlei [Silva] and Thiago Alves. The photographer was going down the line and taking pictures and told us to put on the gloves and "look tough"."
"Someone then found this picture a few years later in the UFC fan expo picture archives or some sh*t and made it into a meme," Tanner Boser continued. "I get why, but I wonder where the creator of this meme is. Own up to it coward. What have you done? I still have that @headrushbrand shirt. I guess it's true. #FortuneFavoursTheBrave."
Replying to a Twitter user, Boser confirmed that the teenager in the center of the trio was, in fact, his brother — a fellow professional mixed martial artist and a purple belt in Brazilian Jiu-Jitsu.
"The guy in the middle is my brother and he's a purple belt in BJJ and has. 1-0 pro record in MMA," Tanner Boser tweeted. "The guy on the right is Kurtis and he plays drums for a metal band in Edmonton called Tyrant. Probably no ONE [Championship] in the cards for them but they're doing their thing haha."